112 (1) The Registrar of Titles must, on application in the usual form, under the Land Title Act, and on the production to him or her of the sheriff's conveyance to the purchaser, attested and proved in the manner prescribed by that Act, register it according to the estate or interest in the land stated in it to have been sold, and must grant the certificate, if any, as may be provided by the Land Title Act for the estate or interest which may be sold.
(2) In the case of an indefeasible or absolute fee, the indefeasible or absolute title, if any, outstanding in the name of the execution debtor is deemed to be cancelled as to the estate or interest of the debtor, or the portion registered in the name of the purchaser.
1979-75-105; 1982-60-100, proclaimed effective August 1, 1983.
FORMS
Documents Required for Registration
Submissions
On the Form 17 Fee Simple or the Form 17 Charge, Notation or Filing, where applicable, select Nature of Interest, Vesting by Court Order, and attach an image of the Form C, Form of Conveyance, and a certified copy of the court order authorizing the sale.
Form of Conveyance
The text of Form C, Form of Conveyance, prescribed under Schedule 3 to the Act is reproduced below.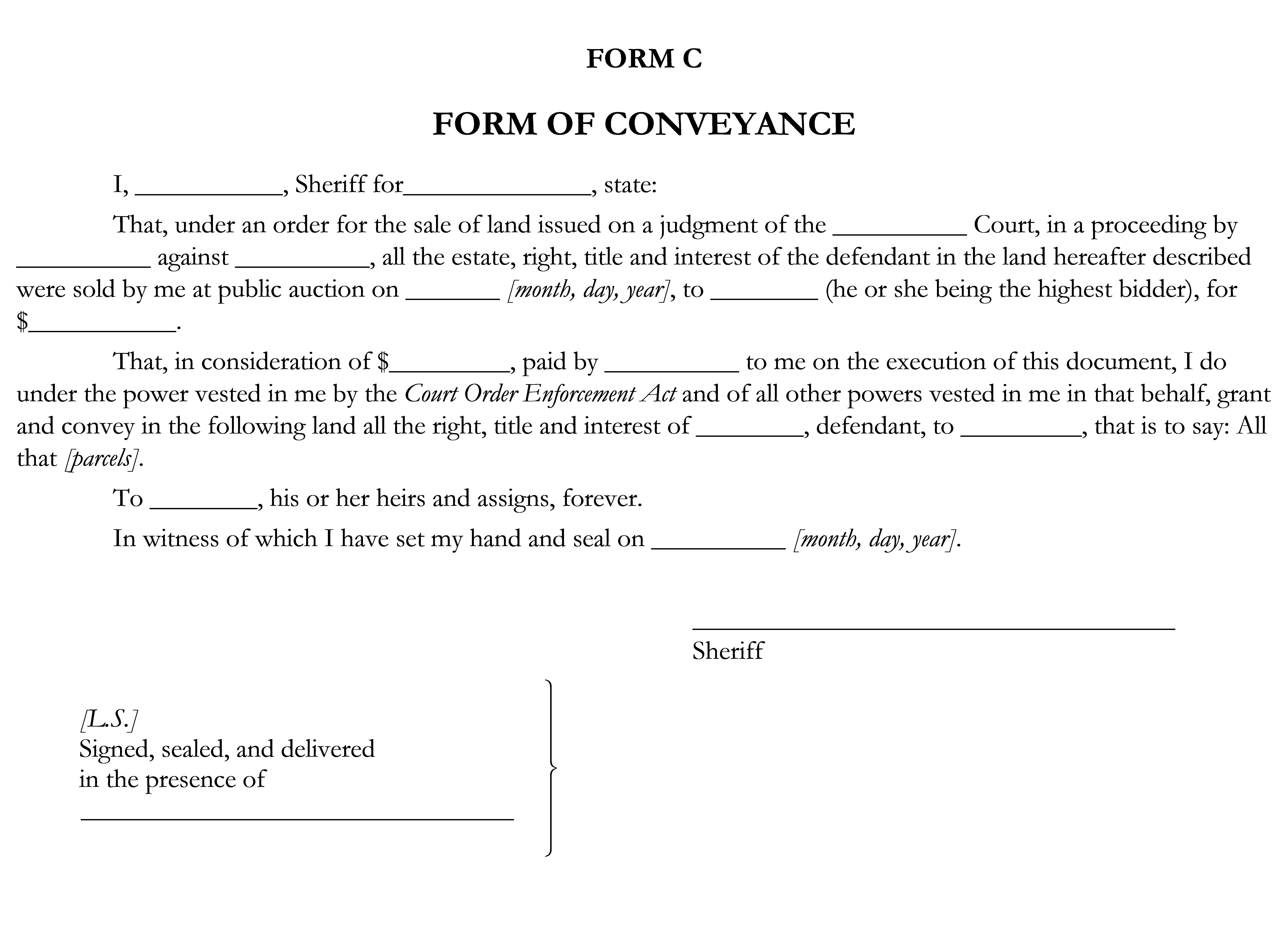 Court Bailiff Deemed to be a Sheriff
A court bailiff appointed under s. 3 of the Sheriff Act, R.S.B.C. 1996, c. 425, is deemed to be a sheriff for a number of purposes including the disposition of lands in civil execution proceedings. A Form C conveyance signed by a court bailiff in these circumstances and certified by an officer is registrable.
CROSS REFERENCES AND OTHER SOURCES OF INFORMATION
Conveyance under Court Order Enforcement Act
See s. 261 of the Land Title Act in this Manual regarding the deemed cancellation of any duplicate certificate of title.
Secondary Sources
See Di Castri, Registration of Title to Land, vol. 3, para. 960.